International Biology Olympiad (IBO)
ABOUT THE INTERNATIONAL BIOLOGY OLYMPIAD (IBO)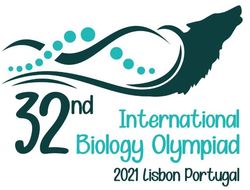 2021 IBO Lisbon, Portugal July 18 to 25. More information to follow.
---
2020 IBO CANCELLED DUE TO COVID-19
To learn about the 2020 International Biology Olympiad in Nagasaki, Japan from July 3 to 11, 2020, please click on the logo to the left of the image of Kujukushima Bay.
2020 IBO VIDEO COMPETITION
Since 2010, the IBO has organized a video competition. If you are interested in producing a video for the  2020 USA Biolympiad Team to submit in Japan, click here (Link coming soon).
---
WHAT IS AN OLYMPIAD?
The International Biology Olympiad (IBO) is the annual World Championship Biology Competition for high school students. The first academic international Olympiads were launched under the auspices of the United Nations in the 1960's. The programs have expanded gradually to include over 70 countries across five continents. Currently, international academic Olympiads are held annually in mathematics, physics, chemistry, informatics, linguistics, astronomy, and biology. The USA Biolympiad (USABO) and the International Biology Olympiad (IBO) award individual achievement in theoretical and laboratory biology knowledge. IBO delegations consist of four students and two academic advisors. Although everyone who is ultimately chosen to travel abroad represents the U.S., each student will receive an individual score at the IBO. Students will be awarded medals as individuals, not as a team. Further information about academic Olympiads can be found by visiting International Science Olympiad.
WHO Is the 2019 USA BIOLYMPIAD TEAM ?
The Center for Excellence in Education announces the

 2019 USA BIOLYMPIAD TEAM
From left to right: Christopher Wang, (Acton-Boxborough Regional High School, Acton, MA),Jason Zhang (Troy High School, Troy, MI), Suhas Chundi (Carmel High School, Carmel, IN) and Henry Shen  (Oak Ridge High School, OakRidge, TN). 
IN THEIR OWN WORDS
"The USABO Finals was a challenging and intense - week learning experience. The lectures constantly kept me on my toes and the problem sets kept me awake each night. My best memories from Finals are the friends I made, the late night games of poker and climbing down to the beach on the last day. At the IBO in Hungary, we got to meet people from around the world who had the same passion for biology as we did. IBO was a mix of exploring a new country and making friends around the world. The Biolympiad is an experience I'll never forget." Suhas Chundi, 2019 USABO National Finals Gold Medalist and 2019 IBO Gold Medalist.
 "Attending the USABO National Finals was the experience of a lifetime. From engaging lectures by renowned professors to labs covering every thinkable field of biology. I learned in several weeks more science than I thought I ever could! However, labs and lectures didn't cover all I took away from my experience. Meeting the other Finalists, all who brought unique backgrounds, perspectives, and philosophies, both enriched my Finals experience and ensured my lifelong passion for biology." Henry Shen, 2019 USABO National Finals Gold Medalist and 2019 IBO Silver Medalist.
"It's incredible how many unforgettable experiences one can have in just two weeks. The sheer volume of material and laboratory techniques that we learned at the National Finals—including enzyme biochemistry, neural signaling, shellfish dissections, flower identification, and so much more—proved challenging and exhausting, but we put in the effort to tackle it all because we truly wanted to, and because our new friends were there to support us along the way. When so many people in one place all share the same passion for biology, everyone works together to teach one another something new, and we all come out with knowledge and memories that last a lifetime." Christopher Wang, 2019 USABO Gold Medalist and 2019 IBO Gold Medalist.
"The USABO National Finals and the IBO were truly once-in-a-lifetime experiences. I had the unique opportunity to meet other motivated students passionate about biology and gain exposure to a variety of extremely fascinating topics within a competitive setting that pushed me to apply what I'd learned. I will always cherish the memories I've made and knowledge I've gained through the USABO program." Jason Zhang,  2019 USABO  National Finals Gold Medalist and 2019 IBO Silver Medalist.
2019 USA BIOLYMPIAD TEAM RECEIVES 2 GOLD AND 2 SILVER MEDALS AT THE 30TH IBO in Szeged, Hungary
Thirty-third Place: 
Jason Zhang (
Troy High School, Troy, MI
)
Third Place: Christopher Wang (Acton-Boxborough Regional High School, Acton, MA)
Thirty-ninth Place: 
Henry Shen
  (
Oak Ridge High School, OakRidge, TN)
Twenty-fifth Place: 
Suhas Chundi 
(

Carmel High School, Carmel, IN
)
                  2015 Denmark                         2016 Vietnam                         2017 United Kingdom                       2019 Hungary
HOW ARE IBO WINNERS SELECTED?
The IBO occurs over a six-day period. Two days are devoted to testing, one day to the Opening Ceremony, and one day to Closing Ceremony. The other days are filled with cultural activities and excursions in the host country and independent study. Students compete in both the theoretical and practical exams. Each exam lasts an average of four to six hours each day. Exams are given in the students' native language (United States: English).
The Organizing Committee, which consists of the academic advisors from all participating countries, creates the two sets of exams – the theoretical, knowledge-based exam and the four practical, laboratory-based exams. All exams are related to the official text book, Biology by Campbell and Reese.
The practical and theoretical scores are aggregated. Participants in the top ten percent are awarded gold medals, the following twenty percent are awarded silver medals, and the next thirty percent are awarded bronze medals. Approximately, sixty percent of the IBO participants receive a medal. Please see the IBO guidelines here.
Officially, there are no team scores at the IBO. However, the total number of medals awarded to each country is tallied, announced, and publicized.
IBO medal winners do not receive any monetary awards or scholarships from the host country. The USA does not offer monetary awards or scholarships to Team USA.
USA BIOLYMPIAD TEAM INFORMATION
Students are selected for the IBO based on their USABO National Finals performance.
Students may be asked to participate in media appearances.
Students competing in the IBO are expected to study biology independently during the period between the USA Biology Olympiad National Finals and the IBO.
Nagasaki International Universtiy Campus, Sasebo, Nagasaki Prefecture