USABO: About the Exams
Round 1: USABO Online Open Exam
---
Is a 50-minute, nationwide multiple-choice exam available to any high school biology student (grades 9 to 12) who is registered by a school or one of the select authorized USABO Centers. US Citizenship and green card are not required for the Open Exam, but are required for students to progress to the Semifinal Exam.
Administered/proctored at a registered school or authorized USABO Test Center (classroom or location designated by the teacher/test administrator) within the online date and time period designated by the Center for Excellence in Education (CEE).
Structured with multiple choice questions with one response.
Has NO Penalty for guessing.
Round 2: USABO Online Semifinal Exam
---
Is a 120-minute exam containing three parts available only to high school students grades 9 to 12) who are US citizens or are legal permanent US residents:

Part A is primarily multiple choice questions with one answer.
Part B has more complex, sequenced multiple choice questions that may have several correct answers and may require calculations or extensive interpretation of graphs (see posted example). 
Part C may be short answer or essay 

and multiple true/false choice questions. 

.

Proctored at a registered school or authorized USABO Test Center (classroom or location designated by the teacher/test administrator) over a 120-minute period on the designated date and during the online time period identified by the Center for Excellence in Education (CEE) on the USABO Calendar.
Taken by students who score in the top 10% of the Open Exam and is a US Citizen or a legal US resident.
Has NO Penalty for guessing. For Part B multiple choice questions with more than one answer, the question value will be the number of wrong responses subtracted from the number of right responses with no question value below zero.
Part C Multiple/True False Questions will be scored as follows:

 4 correct responses = 1 point; 3 = .6; 2 = .2; and 1 or 0 = 0. Write your answer in the space provided.
Round 3: USABO National Finals
---
Conducted virtually during the pandemic. When the pandemic ends, it will be held at a host university over a 12-day period with 10 days of instruction and two days of testing.
Attended by students with the top 20 scores on the Semifinal Exam.
CEE recognizes that the National Finals' dates may conflict with high school graduation. CEE does not discourage students from attending their graduation. Special arrangements may be made by the student for a 24-hour (maximum) return to home. The student is asked to be cognizant of the fact that experience has shown missing one full day of training may be extremely detrimental to the student's scores on the National Finals Exam and Practicals.
The USA Biolympiad Team will stay an additional two to three days for more training and preparation with personal instruction for the IBO Competition.
Instruction focuses on the laboratory and conceptual understanding for all 20 Finalists.
Activities led by university professors and experts with experience in research and undergraduate and graduate teaching assisted by former USABO Finalists.
Evenings will be free for study with tutorials from the Teaching Assistants (all former USABO/IBO medalists or Finalists) and other activities.
Practical Exams are approximately 6 hours in duration and the Theoretical Exam is approximately three hours.

Practical: laboratory-based skills, techniques, data interpretation, and real-time laboratory competency exam involving conceptual understanding and problem solving.
Theoretical: multiple true/false choice questions and multiple choice involving interpretation of diagrams and graphs, integration of information, and data analysis.
Practical and Theoretical Exams MUST be taken on the scheduled day. No exceptions can be made.

Room and board are provided.
Students are responsible for transportation to and from the USABO National Finals. Students with financial need should contact CEE should assistance be required.
Each Finalist and his/her guardian is asked to sign an agreement to indicate support for the Finalist's advancement in the USABO competition to include full participation in Finals and the IBO competition. In addition, each Finalist and guardian signs an agreement that prohibits participation in any other national academic Olympiad or summer program, such as the Research Science Institute. In the spirit of the Olympiad, a student and his/her parent/guardian are expected to honor the commitment when they sign this agreement.
At Finals, each student signs an agreement to obey the USABO rules. If a student breaks any one of the rules made in the USABO agreement, the student will not receive a certificate of participation or a medal. Finalists will be re-ranked accordingly.
Anticipated National Finals Schedule
---
NOTE: Order of laboratories may change.
| | |
| --- | --- |
| Day | Activity |
| 1 | Students Arrive - Orientation |
| 2 | Topic - Lab equipment, skills. Morning: Opening Ceremony |
| 3 | Topic – Cell & Molecular Biology |
| 4 | Topic – Plant Anatomy & Physiology |
| 5 | Topic – Animal Anatomy & Physiology |
| 6 | Topic - Ecology |
| 7 | Topic – Genetics & Evolution I |
| 8 | Topic - Biosystematics |
| 9 | Topic – Genetics & Evolution II |
| 10 | Topic – Statistics, Modeling, Computational Biology, Bioinformatics |
| 11 | Practical Examination (~6 hours) |
| 12 | Theoretical Examination (~ 4 hours). Evening Awards Ceremony. |
| 13 | Team Day - Individual tutoring, review, labs |
| 14 | Team Day - Individual tutoring, review, labs |
| 15 | Team Day - Individual tutoring, review, labs . Students Depart |
Distinguished Speakers
---
CEE is proud to provide the USABO students with the opportunity to meet and speak with national leaders. The 2020 Virtual Nationals Banquet speaker was 
Ryan Jamiolkowski, MD, PhD, USABO (2004) & RSI (2004), Neurosurgery Resident, Stanford University
Round 4: International Biology Olympiad
---
July 18 to 25, 2021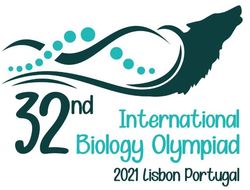 Website is not available at this time.         
---
To view the USA Biolympiad National Finals 2017 video, click here.